6 Tips for a Successful Hummingbird Season!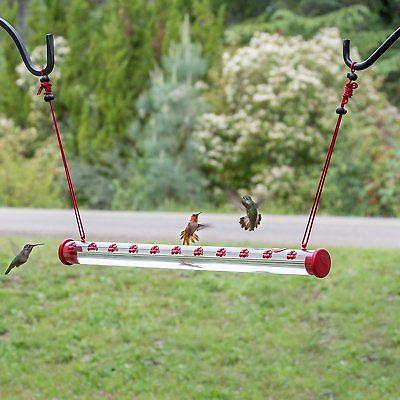 Happy Spring!! It's time again to welcome back those beautiful little hummingbirds. Here are 6 quick-tips for feeders & feeding to make the most out of your hummingbird season!!
6 Tips for a Successful Hummingbird Season! by Feathered Friends of Santa Fe
1. The approximate mixture for a 1/2 gallon of hummingbird food is four to one (4:1), four cups of water to one cup of table sugar. Mixing Instructions: We suggest 2 cups of hot water to 1 cup table sugar. Mix vigorously for 30 seconds and then add 2 cups of cold water, mix again. Serve soon after. Refrigerate any extra. 
2.
 Hummingbirds can be territorial with the feeders so we suggest placing feeders three to five feet apart from each other. Start with three feeders, moving up to more as your flock increases. View our broad selection of
Hummingbird Feeders
to find one that works with your area.
3. 
For the avid hummingbird enthusiasts, consider using a feeder with multiple ports, like the
44-port Hummerbar
by Perky Pet. This allows for an amazing showcase of hummingbirds and reduces competition. 
4. Make sure your feeders are kept away from direct sunlight. Sun can heat up your feeder and burn the hummingbird's tongue.
5.
 Make sure you keep your feeders clean. Sugar turns into alcohol and the feeders can get moldy. Try to pick a feeder that is easy to clean, but if it isn't, check out our
Hummingbird Feeder Cleaning Kit
!
6. Utilize plants and flowers that naturally attract nectar-seeking Hummingbirds such as Trumpet Vine, Trumpet Honey Suckle, Hollyhock, Columbine, Penstemons, Butterfly Bush and Bee Balm to name a few. Flowers also contain bugs, a delicious treat that exposes hummingbirds to a wider diet. 
You can learn more about hummingbirds in
Hummingbirds of North America
 by Steve N. G. Howell. We hope that you have a wonderful hummingbird season, from everyone here at Feathered Friends of Santa Fe.
Happy Birding!!!
100 Responses
Leave a comment