"A Farewell to Friends" by Ben Swan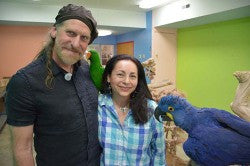 Recently, Feathered Friends of Santa Fe was featured in The Santa Fe New Mexican. After 31 years of business we closed up shop and transitioned completely away from live animals. 
These days we are still committed to producing high quality, fresh bird seed blends for both the exotic and wild bird varieties. With so many amazing customers, we felt it was beneficial to offer our products online after we went away from our St. Francis Drive location.
Here's an excerpt from the article:
For more than three decades, Darlene Parker has been tending to a flock of pigeons outside her business and a gaggle of domesticated birds and friends inside.
As she prepared to close down Feathered Friends of Santa Fe, Parker said she hopes the building's new owners will keep feeding her flock.
"They are like family," she said about the birds, quickly beginning to tear up. But then Parker, who regularly helps stray dogs, homeless people and the community's bird-loving residents, feels that way about most people and animals she encounters.
And that's why Parker is so reluctant to say goodbye to such a strong chapter in her life. Her colorful store at 1089 S. St. Francis Drive has long been a Santa Fe fixture, where people not only learn about wild and domesticated birds but share their lives and love of animals.
"I didn't think I'd last a year, much less 31," Parker said. "And it's because the people in Santa Fe are so awesome. I definitely have been blessed to be able to do what I love."
You can read the full article 
here
 on The Santa Fe New Mexican's Scoop blog!
19 Responses
Leave a comment